For the better or worse of it, all the hidden pages are now visible from the tabs and sub-tabs at the top
There are some duplicate pages nested in sub-tabs
As time permits, duplicated information will be consolidated
---
Our next First​ Big Step
We, the people of these united States of America have lived under the
provable illusion
of Democracy. Let these facts speak for themselves:
Ever since 1776, in direct violation of our constitutions, right up to the present, our governments still dictate to us who can and cannot vote. They tax people who are not allowed to vote.
Ever since 1776

, in direct violation of our constitutions, right up to the present,

our governments still dictate to us how the government will count -- and worse yet -- NOT count the vast majority of NON-Consenting votes.
When the government refuses to count the vast majority of Non-Consent votes and swears in or puts in force that on the ballot when only 8% or 20% of the total number of registered voters consent -- our governments are Dictatorial over us. They are not REPRESENTATIVE, and the illusion of our Democracy is just that -- an illusion.
Click this sentence for Our FIRST BIGGEST STEP Since 1776 would be to --- for the FIRST time in our nation's history -- exercise our DUTY and control our governments; as opposed to allowing them to constantly control us.
---
?Still Doing the Same-Ole-Thing As Generations Past?


Our governments are only as clean and honest as the people who elect the key persons into office. Corruption in government is only a symptom of the people as a body.
Until our body of citizens -- especially that of our voters -- become much better informed about where to learn about our rights and duties with respect to controlling our governments; we will keep getting more of the same and worsening corruption.
Nearly every united [sic] States American will tell you that the government is supposed to get it powers from "We the people". Unfortunately, far too few can cite the proper written authority for our power over our governments.
I'll leave you to either enjoy or despise the remainder of this website as I leave you with this provable fact: The unanimous Declaration of the [then thirteen - now fifty] united States of America; which is also most awfully known as The Declaration of Independence. Because of that single-purposed alias, almost no one recognizes The unanimous Declaration as the peoples' most important guiding principle with respect to how we are supposed to control our governments. It contains for us:
* The sole purpose for our governments = help us secure our rights
* Details how our votes are supposed to be counted = consent (50% or more of the total) of the governed/registered voters of today
* Warns us to not get comfortable with the "minor" political injustices because you give the government an inch of your rights it will take a mile of them
* It lists nearly 30 political powers forever off limits to all our government officers
* Among other important properties, it also states our nation's True Pledge to each other.

Governments continue to violate voters who typically do not consent to grant to government unjust powers.
And -- Because our great-great-grandparents, great-grandparents, grandparents, and parents allowed vote-counters to not count 100% of the total number of voter's votes --------> So do we. Then we wonder ​why our government officers get all the more corrupted with each election.
If you do not wish to read the page content here, which is intended to make us question why we do some things in our lives, you may go directly to the page on how To Properly Control Government, which was the home page just a bit ago. Or you can visit any of the other pages, such as We Own Our Government and what Consent of the Governed means.
Folks, I am very exhausted. I started looking into this subject matter in the 1980's, completed the rough draft of the book in 2006, and been campaigning ever since to spread the word about what our nation should be looking like today. With this website-content and the content of the website where the completed book's unedited rough draft of Self-Governance and Corruption-Free Government .....Oh..... I'll keep going, talking to one or two people at at time, still trying to find another person who recognizes the plan for our nation, its design and intended path. Just one more person.
But it is not up to me -- It is up to all of us to make it happen -- if it is what you desire. The making of our nation was never intended for one person to do it alone not even if they could. Our nation is supposed to benefit all of us and be the work created by us all.

Read More...
---
E N J O Y


The new Jewish bride is making her first big dinner for her husband and tries her hand at her mother's brisket recipe, cutting off the ends of the roast the way her mother always did. Hubby thinks the meat is delicious, but says, "Why do you cut off the ends — that's the best part!" She answers, "That's the way my mother always made it."
The next week, they go to the old bubbie's house, and she prepares the famous brisket recipe, again cutting off the ends. The young bride is sure she must be missing some vital information, so she askes her grandma why she cut off the ends. Grandma says, "Dahlink, that's the only way it will fit in the pan!"


[Ziglar, 1975]
In this respect, they are as bad as "this old boy down home." His wife sent him to the store for a ham. After he bought it, she asked him why he didn't have the butcher cut off the end of the ham. "This old boy" asked his wife why she wanted the end cut off. She replied that her mother had always done it that way and that was reason enough for her. Since the wife's mother was visiting, they asked her why she always cut off the end of the ham. Mother replied that this was the way her mother did it; Mother, daughter and "this old boy" then decided to call grandmother and solve this three-generation mystery. Grandmother promptly replied that she cut the end of the ham because her roaster was too small to cook it in one piece.


Variations:
In many tellings, the bride emulates her mother's behavior and her mother is found to be but doing what her mother always did. Bride and mother consult with the grandmother only to discover that Grandma's "secret" had to do with a too-small roasting pan. Two generations have slavishly followed the tradition without understanding it.
Oftentimes it's the new husband who insists upon questioning the inexplicable procedure because his wife appears not to care about its mechanics. In her world, that it works is enough; understanding its mystery is beside the point.
Variations of the tale include cutting the bones out of the drumsticks before roasting the turkey or removing the drumsticks and cooking them in a separate pan (the oven was too small to roast the bird intact), cutting two inches off a new broom (short broom closet), always removing the bottom lid of a can (tops were dusty), and fastening balls of cotton onto a new screen door "to keep out the flies" (Mom used to stuff cotton balls into holes in the ancient screen door).


Origins:
Setting up housekeeping is a daunting yet satisfying task as the bride strives to create a home for herself and her husband, not just a bare-walls place to live. (Grooms appear to be far less motivated in this regard — if it has a TV, sofa, and refrigerator, they figure it's about as done as it gets.) In creating her nest, it's assumed the bride will make mistakes early on as she finds out the hard way that what looked so easy when Mom was doing it is a bit more difficult on one's own. Burnt dinners and tears go together, but eventually a satisfactory homelife is settled into as major purchases are made, redecoration is accomplished, and traditions established within this new family. Throughout the upheaval, the bride is expected to look to her mother for a living example of how to pull it all together and to rely on her advice.
It's upon this assumption this legend rests. Many of the secrets of being a good cook are counterintuitive, and it's easy to adopt an "I don't know how this works, I just know it does" stance as yet another of Mom's recipes proves to turn out only when certain procedures are rigidly followed. The stage is set, so to speak, for the "too big for the pan" joke.
Often told within the Jewish religion, this tale is a parable for teaching the importance of understanding the whys of religious rituals. It is not enough, says this legend, to perform by rote — if observance is to have value, the reasons behind a tradition have to be appreciated as well as the ritual itself faithfully carried out. What better way to express this concept than by telling a tale of a bride and a trimmed roast?


In 2001, the following version of this classic appeared in the Canadian edition of Reader's Digest: When my friend Dale opens a can, she always turns it upside down to open it from the bottom. One day her young son asked her why. "I don't really know," she said. "My mom always did it that way." She decided to call her mom and ask.
"When we brought the cans up from the cellar, the tops were always dusty," her mother explained. "I couldn't be bothered to clean them, so I turned them upside down and opened the bottom."


This account came to us from a reader in 2005:
I was cooking Thanksgiving dinner with my friend who comes from a long line of Black Southern cooks! We were going to cook like 10 different desserts and take them to Grandma's house for the big day!
Well, with every cake that went into the oven, a pan of water went in too… I didn't ask him why, while cooking, figuring that surely it was some secret for making the cakes more moist.
He made sure to point this out to his mother when we arrived. She complimented him on his remembering. I am brave enough to ask, in this crowded kitchen, with food laid out for at least 50 people. His grandmother pipes in…
"I used to put a pan of water in there because my racks were uneven."


In 2003 a reader mailed us an especially enjoyable version of the tale:
A young woman is preparing her first thanksgiving dinner. As she gets everything ready for thanksgiving day, she very sternly reminds herself to let the turkey finish thawing in the sink overnight. She puts it in and places the dishrack over the top of the bird. Her husband walks into the kitchen and sees this. "Why are you doing that?" he asks.
"My mom always did that to help the turkey thaw" she told him.
The next day Mom calls to see how everything is going. "Fine, Ma. I have everything ready to go in the oven. I even remembered to put the rack over the turkey last night."
This seemed to confuse her mother a bit. "What are you talking about?" she asked.
"Oh, I remember you always put the dish rack over the turkey when it was thawing in the sink," she said. There was a pause on the end of the line. "Yes, but honey, we had cats!"


Just to prove it's not only the ladies who fall into the trap of imitating without understanding, we leave you with this bit of humor from 1958:
A more frightened than injured young Seabee electrician was brought into the hospital suffering from electrical burns. Shortly afterward his instructor, a chief electrician, arrived. "Why on earth didn't you turn off the main power switch before you tried to splice the wires?" asked the chief.
"I wanted to save time, chief, and I've seen you stand on one leg, grab the wires and splice without turning off the power."
"My God, kid," exclaimed the chief. "Didn't you know I have a wooden leg?"


Barbara "wooden you know it?" Mikkelson
Sightings: This legend surfaces in a 1994 episode of television's The Commish: Tony Scali asks one of his officers why he makes five copies of each document only to always throw away the fifth and is told "That's the way we've always done it." In retaliation, the Commish tells the "ends cut off the roast" story.



Last updated: 3 November 2005
Sources:
Brunvand, Jan Harold. Curses! Broiled Again! New York: W. W. Norton, 1989. ISBN 0-393-30711-5 (pp. 191-192).
Brunvand, Jan Harold. Too Good to Be True. New York: W. W. Norton, 1999. ISBN 0-393-04734-2 (pp. 146-147).
Mays, Alan E. "The Pan Was Too Small." FOAFTale News. June 1996 (pp. 15-16).
Ziglar, Zig. See You At the Top. Gretna, LA: Pelican, 1975. ISBN 0-88289-126-X (p. 148).
Reader's Digest. "Humor in Uniform." February 1958 (p. 20).
Reader's Digest (Canadian edition). "Life's Like That." February 2001 (p. 192).

BY DAVID MIKKELSON
PUBLISHED 6 JULY 2008
FILED UNDER ASP ARTICLE, NEWLYWEDS Dear Reader, Snopes.com has long been engaged in the battle against misinformation, an effort we could not sustain without support from our audience. Producing reliable fact-checking and thorough investigative reporting requires significant resources. We pay writers, editors, web developers, and other staff who work tirelessly to provide you with an invaluable service: evidence-based, contextualized analysis of facts. Help us keep Snopes.com strong. Make a direct contribution today. Learn More.
Donate with PayPal
THe above PAYPal DONATION button solely benefits Snopes.com ​
Read More...
---
For those who pass the word.... Thank You! !

that the work seen on all pages of CleanHonestGov.com and SelfGovernance.Weebly.com are what our nation's document-contract-laws (that include The unanimous Declaration of the united States of America, The Constitution for the United States of America, and others) intend to convey to the people of all generations how our system and form of governance and government — respectively a Democratic Sovereign Body of the People are supposed to control our Republic Forms of Government created to help secure our rights. 
I do, with this statement; declare that anyone reading this content should make this content part of your own life with respect to how you participate in controlling y/our governmental bodies; grant to you the right to reproduce and distribute (in any format you desire) in part or entire the content of these two websites, CleanHonestGov.com and SelfGovernance.Weebly.com, for the sole purpose of properly informing other united States Americans and other citizens around the world about how we are intended to obtain and keep proper control over our respective governments. For your efforts to help improve our nation, you owe to me nothing for the consideration I herein grant to you.
Best wishes.
Daniel Melzine Kingery, October 22, 2018 at 09:48 in the AM.
more...
---
Complaints Without Solutions


#KremlinAnnex as with far too many "protest" groups that present their dissatisfaction --- they offer no solutions. In the place of offering suggestions to one of their/our employees in government ( #PresidentTrump ) to help him to a better job, they merely ridicule, and call for impeachment from the very body of #Congress and #SupremeCourt who are even more guilty of impeachable offenses.
Thus this website. Many problems are identified within our pages. Many really simple and easy to implement solutions are found near those problems.
If you tell a healthy-looking person how "ill" they look, that person is more likely to begin looking, felling, and worse yet, acting "ill".
My suggestion: for the #KremlinAnnex and others who do not know that General Elections only reward elected officers (never punishing them) -- if you want to truly FIRE an elected officer ---->Do it long before the natural end of their elected term. This website instructs about the lawful foundation for such actions and how to do it.
William Thomas Memorial Anti Nuclear Peace Vigil was another.
With governments tending to be the worst violators, (#humanrights, #war, and #nuclear tech) the #1776 warning declaration rings loud and clear today -- our repeated #petitions have been answered by repeated #injuries.
Although I've been sitting night shift at the #WhiteHouse #Peace Vigil since mid Sept. 2018; I am not in full agreement on all three stands of #nonukes and #nowar. War and Nukes are nothing other than tools; the same as any hammer, screwdriver, pencil, etc. The hand, or in some instances, the finger, responsible for using the tool depends solely on the mind of the worker using the tool. #Defensive war are necessary uses when the #whiteflag is not a suitable option. #Nuclear Technology, presently used in war and medicine is harmful in each when abused/misused.
You do not throw out the baby because its bath-water is dirty. Baby = tool. Bath-water = worker.
With that, if this website can help the peace vigil get closer to its goals -- all's good.
Enjoy. There are several hidden pages accessible only through the several page-links within each of the visible pages.
This website's content is not my origin creation. It is the #revival of what was and is the written design for where and what our nation was and presently is intended to be and become. The plan and purpose for our nation has not been changed, replaced, or repealed. The constitutions did not replace it -- but were built upon and from it.
As the creator of CleanHonestGov.com, I only take credit for the manner presented. 
Read More...
---
The provable ILLUSION of Democracy



Hello: In these united States of America, we have what can only be explained as the illusion of Democracy. Two provable facts exist (more details throughout this website):
First: 100% of all registered voters do vote every time a public ballot goes out in their community.
Last: Those same registered voters do not make the decision about whether the balloted item or candidates win.
With the 1776 phrase from our nation's and the founding charter for our governments, it demands that "governments derive their just powers from the consent of the governed". This literally demands that every member of the voting body, presently referred to as Registered voters, either consent -- or they do not consent. Thus; if there are only 100 total registered voters 50%+1 (in this example, that is 51) total registered voters MUST Consent or the item or candidate on the ballot must fail. A registered voter who does not get a vote to the polling station (early, absentee, in person, or other way) has NOT consented --- but has --by default voted.
The fact that all levels of government unjustly regulate HOW those total votes get counted and from time to time in our history even WHO may cast those votes --- our government lawmakers literally manipulate who get into office. Thus, by not counting the typical 60% to 85% of registered voters who do not consent todo not consent to any balloted item -- by not going to the polls in any way whatsoever; the government law-makers have determined that at least one of the people they allowed to be listed on the ballot will be "elected"​.
Thus the MASS ILLUSION of Democracy in these united States of America.
Respectfully, a united States American
Read More...
---
The "Registered Voters" have NOT elected any government officers for over 100 years.

Are you ready for the truth of this matter?


Passing laws that do not count 100% of all registered voter's votes make the government controller of the people.
PROOF: Every law that allows vote-counters to not count the registered voter's vote when they do not go to the polling station allows the government to easily pass special-interest legislation and to get corrupted officers elected more easily.
How it works to benefit corruption in government: A registered voter who does not go to the polling station (no early ballot, no absentee ballot, no in person ballot, no other ballot for what so ever) that registered voter HAS NOT consented to whatever or whomever is on the ballot. -- NOT Consenting -- is how those votes are required by the Supreme Law of the Land, US Constitution, Article 6, Paragraph 1, demands. The unanimous Declaration of the united States of America is "the authority of the United States -- our nation's authority. The US Constitution is our nation's government's authority for what it can lawfully do.
That's correct. So long as we allow our government officers to TELL US how they will count our votes -- our government officers control absolutely every aspect of our lives.
The remainder of this website details how we reacquire our rightful and dutiful control over our governments​.
Read More...
---
---

The Journalist's Creed
​- by Walter Williams
https://longversion.wordpress.com/2012/09/23/the-journalists-creed/

The #JournalistCreed
​
I believe in the profession of Journalism.

I believe that the public journal is a public trust; that all connected with it are, to the full measure of responsibility, trustees for the public; that all acceptance of lesser service than the public service is a betrayal of this trust.

I believe that clear thinking, clear statement, accuracy and fairness are fundamental to good journalism.
I believe that a journalist should write only what he holds in his heart to be true.

I believe that suppression of the news, for any consideration other than the welfare of society, is indefensible.

I believe that no one should write as a journalist what he would not say as a gentleman; that bribery by one's own pocket book is as much to be avoided as bribery by the pocketbook of another; that individual responsibility may not be escaped by pleading another's instructions or another's dividends.

I believe that advertising, news and editorial columns should alike serve the best interests of readers; that a single standard of helpful truth and cleanness should prevail for all; that supreme test of good journalism is the measure of its public service.

I believe that the journalism which succeeds the best-and best deserves success-fears God and honors man; is stoutly independent; unmoved by pride of opinion or greed of power; constructive, tolerant but never careless, self-controlled, patient, always respectful of its readers but always unafraid, is quickly indignant at injustice; is unswayed by the appeal of the privilege or the clamor of the mob; seeks to give every man a chance, and as far as law, an honest wage and recognition of human brotherhood can make it so, an equal chance; is profoundly patriotic while sincerely promoting international good will and cementing world-comradeship, is a journalism of humanity, of and for today's world.

It isn't perfect, but neither is the profession occupied by imperfect human beings. That, however, does not excuse the blatant disregard for most of the tenets of this creed by our current broadcast media, print media, and news organizations.

I challenge any and all who call themselves journalists, at any and all professional levels to read the creed and then perform a sincere inventory of his or her journalistic practices.

This country needs a voice it can believe, verify, and trust. Who will be the journalists to accept that charge? Who will follow the creed and all other ethical codes of conduct?

Please step forward. Now.
Powered by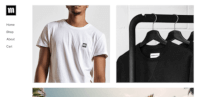 Create your own unique website with customizable templates.